This Synod supports congregational youth and family ministry through Christ-centered resources, ideas and powerful ministry events.
The synod's Youth Ministry Team works to plan youth ministry activities on a synod level, seeks to share resources in youth and family ministry with congregations, and develops training opportunities to develop leaders among young people and adults in youth and family ministry.
Journey: Tri-Synodical High School Youth Gathering – July 24 – 27, 2023 River, Falls, WI
The Northern Great Lakes Synod is once again partnering with the Northwest Synod of Wisconsin and the LaCrosse Area Synod of Wisconsin to plan a Tri-Synodical Youth Gathering at UW-River Falls this summer. 
High schoolers are invited to join us July 24-27 for creative ministry, challenging conversation, inspiring guest speakers, service learning, and uplifting worship. Visit (Northwest Synod of Wisconsin | JOURNEY (nwswi.org) for more
additional details and registration information.
Darkness to Light Child Protection Trainings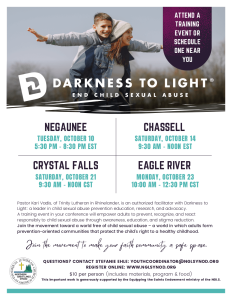 Pastor Kari Vadis, of Trinity Lutheran in Rhinelander, is an authorized facilitator with Darkness to Light: a leader in child sexual abuse prevention education, research, and advocacy.  A training event in your conference will empower adults to prevent, recognize, and react responsibly to child sexual abuse through awareness, education, and stigma reduction.  
Join the movement toward a world free of child sexual abuse – a world in which adults form prevention-oriented communities that protect the child's right to a healthy childhood.
2024 ELCA Youth Gathering – July 16-20, 2024, New Orleans, LA
Every three years, thousands of high school youth and their adult leaders from across the Evangelical Lutheran Church in America gather for a week of faith formation and fellowship known as the ELCA Youth Gathering. Through inspiring speakers, worship, music, and the opportunity to be immersed in the host city, young people will be inspired, challenged, and called to live out their faith in their daily lives.
The theme for the 2024 ELCA Youth Gathering is "Created to Be" centered on Psalm 139:14 – 

"I praise you, for I am fearfully and wonderfully made. Wonderful are your works; that I know very well."

  The next ELCA Youth Gathering will take place in New Orleans July 16-20, 2024.
If you would like to be part of the 2024 ELCA Youth Gathering, please reach out to your pastor or
contact the NGLS Youth Coordinator
to get connected to a local congregation.
Visit
ELCA Youth Gathering
 for
additional information and resources to help you prepare for this faith-forming experience.
Conference-Wide Youth Event
The Synod Youth Ministry Team encourages and supports Conference-Wide Youth Events for young people. We recognize that many congregations only have a handful of youth and that by combining efforts, we can share resources and offer more opportunities for youth to get together for fellowship and faith-building activities within their conference. 
With such a geographically large synod, we are looking for additional adult leaders to help plan and execute these gatherings. Please email Stefanie Ehle (youthcoordinator@nglsynod.org) with questions or for more details.
The ELCA Growing Younger project began in 2019, after research confirmed that congregations were experiencing a decrease in attendance, especially among young people. ELCA staff discovered that the Fuller Youth Institute had been working across denominations to help churches grow younger and create more vibrant communities in response to this trend. Since then, the ELCA has had over 300 people trained from 52 synods to learn how to create a faith community that not just welcomes young people, but equips them with strategies to create a place where young people can belong and be part of the church family.
The Northern Great Lakes Synod currently has 4 trained leaders and would like to continue to share resources and opportunities for others to learn more about how to encourage congregational growth.
Visit the Growing Younger webpage
 for more information and upcoming training opportunities through the ELCA.
Contact Us
Contact 
Stefanie Ehle
NGLS Youth Ministries Coordinator, with questions or for more information about youth ministry in the Northern Great Lakes Synod.
Stefanie Ehle
NGLS Youth Ministries Coordinator
Join The Community!
Please send us your name and email address to be included in future communications regarding youth ministry in our synod.